« Back to Offices List
Peabody & Smith Realty - Franconia
Office Info:

Web Site: http://www.peabodysmith.com
Contact:

383 Main Street
Franconia, NH 03580
Phone: 603-823-5700
Fax: 603-823-5777
Managing Broker:

603-823-4007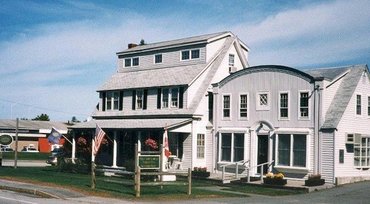 Peabody & Smith Realty - Franconia Agents
Trevor Hamilton Sales Associate trevorh@peabodysmith.com

O: 603-823-5700
F: 603-823-5777
C: 603-991-9592

In 1990 Trevor graduated from the University of New Hampshire (B.S. Cum Laude) and moved back home to the North Country to spend a winter ... read more »

Stephen Gorman Sales & Rental Associate stepheng@peabodysmith.com

O: 603-259-0197
F: 603-823-5777
C: 603-728-5377

Steve is a seasoned hospitality veteran and joined Peabody & Smith Realty in the summer of 2008. While in the hospitality industry, he worked throughout ... read more »

Anne Foss Broker Associate anne@peabodysmith.com

O: 603-823-5700
F: 603-823-5777
C: 603-616-8655

Anne Foss, Broker Associatewas raised in Dedham, Massachusetts and relocated to New Hampshire in 1971. She is the mother of daughter, Ellie and grandmother of ... read more »

Mary Doherty Commercial & Investment Broker maryd@peabodysmith.com

O: 603-823-5700
F: 603-823-5777
C: 603-767-7507

Maryjoined Peabody & Smith in 2000 after spending 25 years in the insurance and financial services industry. She was the co-owner and general manager of ... read more »

Elizabeth Horan NH/VT Broker Associate beth@peabodysmith.com

O: 603-823-5790
F: 603-823-5777
C: 603-616-8664

Beth was awarded Peabody & Smith's Sales Associate of the Yearin 2002, 2003, 2005, 2006,2007, 2008, 2009, 2010 and 2012. Beth has been with the ... read more »

Mary O'Toole Broker Associate maryo@peabodysmith.com

O: 603-259-0196
F: 603-546-7191
C: 603-616-9974

Mary received her New Hampshire real estate license in 2004. Mary had previously been self-employed in the pet grooming and boarding industry for 30 years ... read more »

Andrew Smith Broker/Owner andy@peabodysmith.com

O: 603-823-4007
F: 603-823-5777
C: 603-616-9443

Andy has over 25 years experience in the Real Estate Industry. In 2004 he was designated as a Certified Commercial Investment Member (CCIM), as a ... read more »
Peabody & Smith Realty - Franconia Employees
Testimonials
"We were very pleased with the services that we received from Trevor and your agency. We would not have completed this sale without Trevor and his guidance. We will forever be grateful to Trevor for his service."
Craig and Brenda Jewett
Haverhill, NH
---
"Charlie was a godsend during this transaction. He went above and beyond what you would expect from a broker. Your company and Charlie in particular, were wonderful to work with. "
Heidi Churchill
of Massachusetts
---
"We have had excellent service with Beth - cannot think of any way to improve!"
Liz Lakin
Littleton, NH
---
"Anne was great and a fantastic professional on your staff."
David & Susan Bunker
Salem, NH
---
"...he communicated...and led us to the closing. I would be happy to recommend him to any and all of your clients!"
Camille Menino
Piermont, NH
---
"Beth was our "buyer agent" back in 2004 when we first purchased the condo. Beth actually kept in touch with us for 3 to 4 years prior to 2004 as units came on the market. We think very highly of Beth and would recommend her to anyone buying or selling in the North Country. "
Isabel & Jeffrey Johanson
Bethlehem, NH
---
"Love you guys! Beth fantastic - of course! "
Jean Niece
Northern NH
---
"Wonderful! Last year we called Anne out of the blue, we were looking on our own and couldn't find this one property, Anne was so helpful! I didn't feel like she felt we were wasting her time. And in that moment I told my husband that Anne would be our agent when we decided to buy. We loved her!! Everytime we came to NH, Anne made herself availbable! "
Ed & Cindy Stanchock
Bloomsburg, PA
---
"We felt we were in very good hands every step of the way. All the correspondence was helpful and reassuring. "
Cornelia Veenendaal & Barbara Ferro
Franconia, NH
---
"Thank you so much for making this sale happen. Your knowledge, guidance - and patience helped get us through. I so appreciate all that you've done."
Sharon Hinds
---
"You need a scale of "10 Plus" for Beth! What can we say? Awesome on every count! We were so lucky to have her and so is the agency."
J&N
Franconia, NH
---
"Everyone was very nice and helpful!"
S&R
---
"Trevor was an accomplished expert with our transaction, including his assistance with the utilities, insurance, and closing."
L. Neal
---
"Excellent customer service!! Trevor did a great job!"
G&K
---
"Steve is amazing! He approaches everything he does with the utmost care and professionalism. We are thrilled to have found sch an amazing house and loved having Steve by our side to handhold us through the process!"
D. Diamond
---
"I have recommended Charlie!"
S
---
"I felt so taken care of by Beth and Stephanie that I really can't imagine how it could have been improved. It was the easiest home purchase I have ever experienced."
C. Sullivan
---
"Peabody & Smith was among the real estate agencies first recommended by our family. On my research, it was obvious that Peabody & Smith had the most visable presence and professional appearance in the North Country.
-Editors note, on this survey, Beth Horan was given all 5's in all seven categories for Excellent service on a number of levels!"
R. Martin
Franconia, NH
---
"Keep up the good work! Beth and the whole team were great."
Kevin & Claudia Killoran of
Florida
---
"This is our 3rd transaction with Peabody & Smith and everything has been handled very professionally. Thank you."
Mr. Grassett
---
"Terrific experience! Thanks again!"
Editor's Note: Chris & Wendy gave Mary all 5's for Excellent in the 7 different categories of our customer service survey."
Chris & Wendy Thayer
of Franconia, NH
---
Peabody & Smith Realty - Franconia Listings
Disclaimer:
This display of listings may or may not be the entire Compilation from the NNEREN database, and NNEREN does not guarantee the accuracy of such information
---